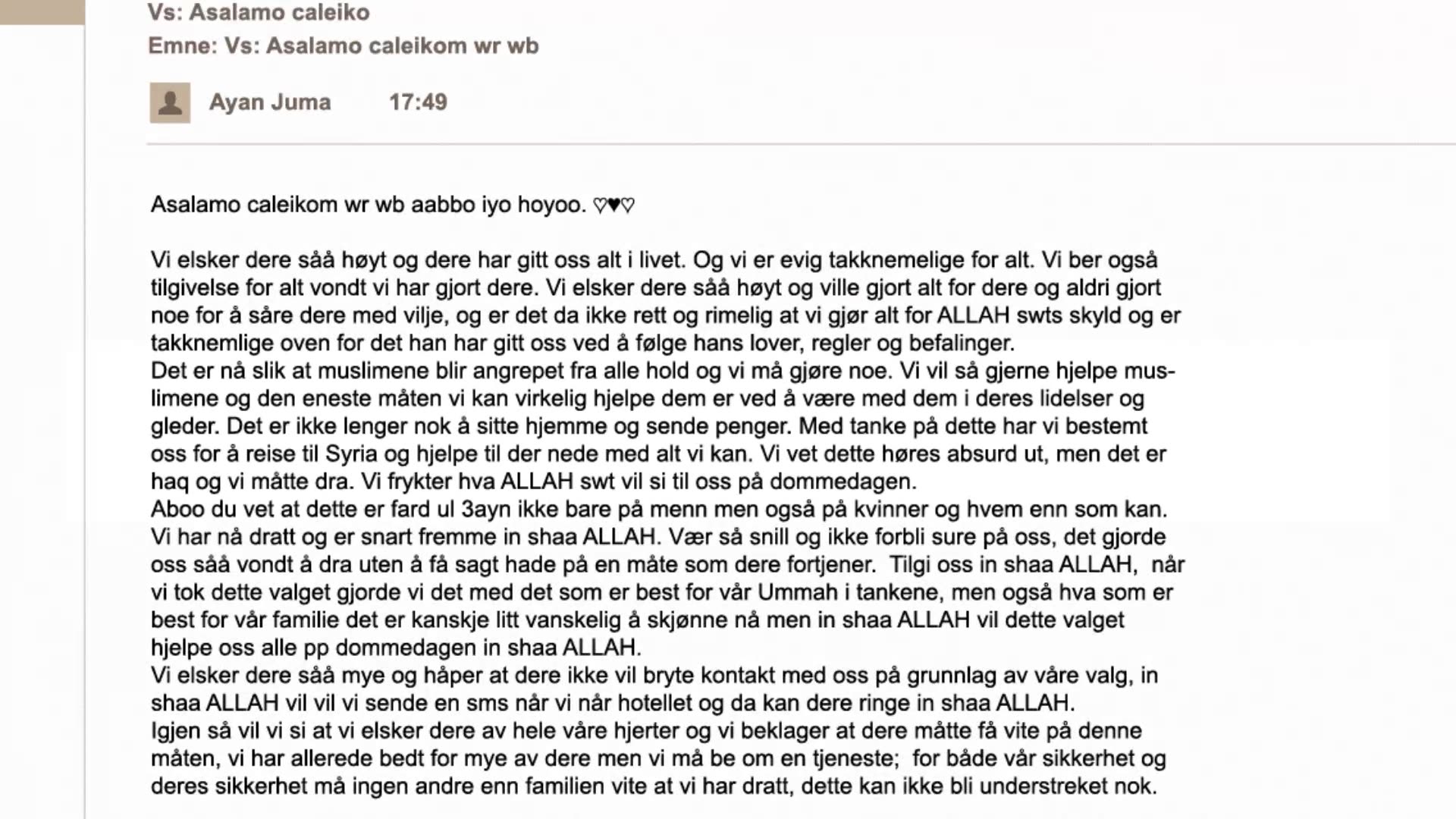 After a normal day with doctor's visits and school, Sara and her three sons come home to an empty house. While making dinner Sara tries to get a hold of her two daughters. She wonders where they are. After a few calls she gets in contact with the eldest daughter "Ayan". She explains to her mother that the youngest daughter, "Leila", is with her. This calms Sara down and she continues to make dinner. When dinner is done she calls her husband Sadiq to tell him to come dinner, and to pick the girls up as well. Sadiq call the girl, but doesn't reach either of them. Leila has her phone switched off while "Ayan" doesn't answer hers. Sadiq get annoyed and goes home without them.

At home Sara and Sadiq calls the girls several times in hope of finding out where they are. At about six o'clock "Ayan" answers the phone, tells them to read the email they have sent and hangs up. The email tell their parents that the two girls have run away from home to travel to Syria. They are upset due to all the Muslims that are dying and want to help. They ask their parents for forgiveness for any pain they are causing. The girls present the idea that this is the right thing to do, both for themselves but also for the whole family. They ask that for their own protection, their parents don't call the authorities.
Sara faints. Saidq re-reads the email to make sure he has read it correctly. At 21:54 they place a call to the local police station, explaining that the girls have sent an email that they have travelled to Syria to take part in Jihad. He finally comes in contact with "Ayan". She lies to him and says she is in Sweden before they are disconnected. Later "Ayan" message her parents over Facebook. Sadiq tries to talk them into coming back, telling them the police and child protection system are there. "Ayan" asks them why they have done that, that they told them not to tell them and tells them that she will talk to them again when they have calmed down. When Sadiq asks why they just left, "Ayan" explains that she and her sister knew they wouldn't be permitted to go. "Ayan" logs off. That day the girls have flown from Norway to Turkey.
At 11 o'clock in the evening "Ismael", the oldest son, receives a snapchat from the girls with a picture of a piece of meat. The gps-device in the app tells him they are in Seyhan, Adana, Turkey. With the picture there is a text reading "Last meal in Europe". Sadiq calls the police at once telling them where they are. The local police send the message to the local branch of the Norwegian Police Security Service. After the meal the girls send another email to their parents. This time with a book manuscript written by Dr. Abdullah Azzam. At half past 11 Saidq sits down to read the book at the bequest of his daughters. The girls message "Ismael", asking if it's true the police is there and how their mother is doing. When he responds negative to both questions, then "Laila" explains that they are doing this to help their parents in the akhira [afterlife]. The girls say good bye to their brother and turn in for the night a Grand Hotel in Adana, Turkey under their own names.